You Can Make a Difference in the Educational Impact of AESA
The AESA Foundation supports innovation, research and development, and the programs of the Association of Educational Service Agencies (AESA).
Your donation of any size is appreciated and tax deductible.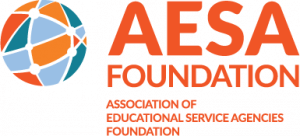 A Message from Foundation
AESA Foundation
Helping AESA Stay Ahead of the Curve
When AESA completed its strategic visioning process, a members' only online platform was identified as a way to connect ESAs to ESAs. With the foundation's investment, the vision became real! The AESA Community is an online platform for easy, two-way ESA-to-ESA communication and sharing. (The AESA Community is home to the Affinity Groups too!)
Keeping AESA Affordable for all sized ESAs
Did you know the AESA Foundation sponsors the annual Summer Leadership Conference? With the Foundation's support, the Summer Leadership Conference brings national, expert presenters who help ESA leaders focus on emerging issues and challenges. And with the foundation's support, the conference remains affordable for all ESAs, making it possible for any ESA to bring one person - or a team of leaders - to this important conference.
Investing in Leadership: Past, Present, Future
Sometimes our future work requires caretaking the past. AESA completed a research archive by gathering research papers, articles, and information relevant to the work of ESAs and made it available for all members. This ongoing effort is gaining traction as a go-to resource for current and future leaders.
Benefiting AESA and its Members
AESA's Foundation's activities benefit member agencies by promoting business relationships. The Foundation is willing to team with other organizations in mutually agreed-upon relationships that further the activities of the Foundation.  Participation in the Foundation is determined solely by the Foundation itself.
Businesses that are interested in working with the AESA Foundation are eligible to do so through a pledge of cash, in-kind service, or resources such as stocks, bonds, or real estate.
Please contact Ann Fiene, AESA Executive Assistant, for more information.
Foundation Board of Trustee Members
Tom Danehy, President of AESA
Executive Director, ACES
350 State Street
North Haven, CT  06473
P: 203-498-6800
E: tdanehy@aces.org
W: www.aces.org
---
Jeremy Kovash, President-Elect of AESA
Executive Director, Lakes Country Service Cooperative
1001 East Mount Faith
Fergus Falls, MN 56537
P: 218-739-3273
E: jkovash@lcsc.org
W: www.lcsc.org
---
Jeremy Biehl, Past President of AESA
Agency Administrator, CESA #5
626 E. Slifer Street
Portage, WI  53901-0564
P: 608-745-5400
E: biehlj@cesa5.org
W: www.cesa5.org