Executives in Residence Program
The Executives in Residence Program is a yearlong, performance-based opportunity that:
includes a strong mentor component by CEOs of the council and host organizations
provides access to a variety of leadership experiences
works in a cohort model providing national networking and communication.
The program commencing in July of each year will prepare our next generation of CEOs with the needed skills. We look forward to your application in the fastest-growing education sector in our community.
---
Executive in Residence Director: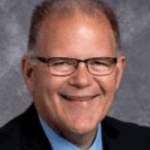 Cliff Carmody, Executive Director
SWWC Service Cooperative in Marshall, Minnesota
Why Executive in Residence