Stay Tuned! New Dates Coming Soon
This event is canceled for October 2021 and will be rescheduled at a later date. Please stay tuned!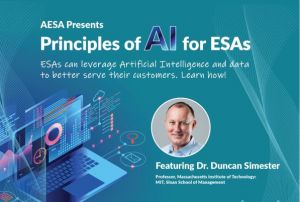 The "Principles of AI" program was offered for the first time in October 2020.  The success of this inaugural program means that AESA will offer an extended version of the program again at a later date.
The program will be taught virtually by Duncan Simester in a sequence of four 2-hour sessions.
We will ask participants that did not attend the October 2020 program to attend all four sessions in this year's program. The content in the later sessions will build upon the content in the earlier sessions.
For participants that did attend the October 2020 program, we offer an option to attend just Sessions 3 and 4. The content in Session 3 will be entirely new this year, and the content in Session 4 is a structured discussion that is also likely to cover new material.